May/June/August/September, 2023.
In case, you are not aware about the "Pantanal Season", the months above, are the ones when we get the largest number of guests for the Pantanal, in both Brazilian States:  Mato Grosso and Mato Grosso do Sul.


The 2023 "Pantanal Season", was – by far – according to our records, since 1982( 43 years!), the best season ever!  Why? Well, never before, we had three female Jaguars with cubs, on the same season!!! It was overhelming!!! What a perfect spice for our Birding Tours and also Natural History Tours!
Not to mention, how productive it was for our guests that came on Jaguar Photo Safaris!  Some of them, went home with "hundreds of thousands" of photos!!!
And, now comes the best part:  For 2024, we are counting with these three females & their cubs, with the possibility the even more females will show up, with their cubs!!!
Fingers Crossed!!!…Not just for that but, also for the hope that you that is reading this "Trip Highlights Report", may join us for this, that – Surely – will be a Life Time Experience!…
Making a long story short: Let´s meet, in 2024! 🙂
Please, send us an e-mail & we inform you when the new dates for our Set Departure, will announced…In time:  We spread the costs among the tour participants!
March

/April

 2023.
Surely, you will never saw & will not see in any other place, such statement:   Brazilian Mergansers = Couch Potato!!!
But, here is the video, showing that!!!
In time: The Brazilian Merganser is one of the rarest bird of Brazil & the world… But, we managed to have it, in such situation:  Just looking thru. the car's window…
Of course, we went out of the car, having scope views & lots of photos and videos…
In any way, it will be a highlight for the past month & also for during the year of 2023!!!
Boute Expeditions, besides Birdwatching Tours and Jaguar Photo Safaris, also had been offering Natural History Tours, that include, visiting Waterfalls & taking a bath… We are in the Tropics… So, why not? 
So, either in 2023 or 2024… Thinking about travelling to Brazil… 
Think: Boute Expeditions!
January

/February

, 2023.
Just like the farmers have to prepare the soil to get the seeds, here at, Boute Expeditions, we also spent  time "preparing the terrain"  for the 2023 Tours.
And, we got a lot do  since, due the Pandemic, we are getting guests that postponed their trips two years ago, plus, the ones that planned to come this year!
So, besides double checking our reservations, we added a new VORTEX scope to be offered to our guests and made a few scouting trips, including a very special one to the Gardens of the Amazon Lodge: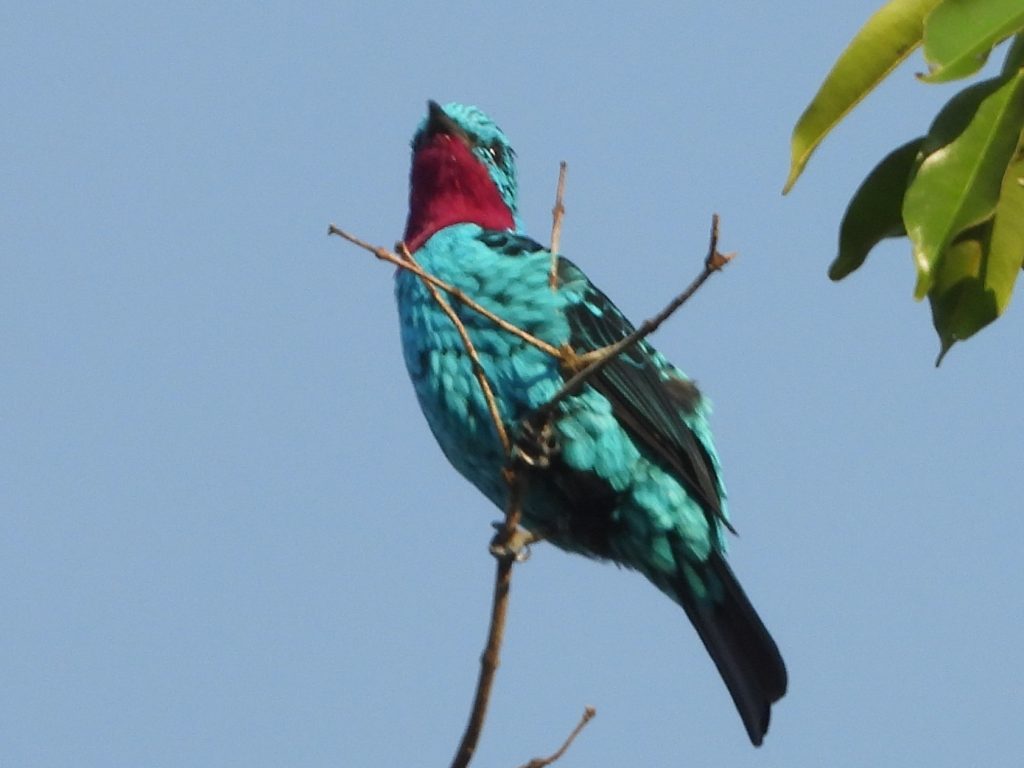 Spangled Cotinga
And, we are glad to announce that from 2023 on…The Gardens of the Amazon,  will be under new management! 
Which includes the plan of building an Observation Balcony, that will allow its guest to cover a huge forested area, across the Rio Claro River, giving the chance to the guests to watch incredible birds such the Splanged and  Pompadour  Cotingas,  Umbrella Birds and, eventually,  Spider Monkeys!!!…
And, last but, not least:  There is still room for you to book a trip with us!!!