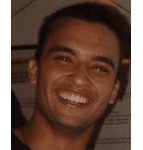 Graduate at Ciencias Biologicas from Universidade do Vale do Paraíba (2007).
Has experience in Ecology, focusing on Conservation.
Formal Education/Degree
2013 – 2017
Ph.D. in Genética, Conservação e Biologia Evolutiva .
Instituto Nacional de Pesquisas da Amazônia, INPA, Brasil.
with collaborative period in University of East Anglia(Advisor:Carlos Augusto Peres ). Year of degree: 2017.
Advisor: Izeni Pires Farias.
Grantee of: Conselho Nacional de Desenvolvimento Científico e Tecnológico ,CNPq ,Brasil .
Keywords: Conservação; Crax globulosa.
2004 – 2007

Graduation in Ciencias Biologicas .
Universidade do Vale do Paraíba, UNIVAP, Brasil.
Advisor: Dr. Alberto Resende Monteiro.
Postdoctorate
2018
Postdoctorate.
Universidade Federal de Roraima, UFRR, Brasil.
Grantee of: Coordenação de Aperfeiçoamento de Pessoal de Nível Superior ,CAPES ,Brasil .
Complementary Education
2007 – 2007
Curso Regular de Fotografia. (Credit Hours: 48h).
Escola Vanguardista de Arte, EVA, Brasil.
2007 – 2007
III CURSO DE FISIOLOGIA ANIMAL. (Credit Hours: 40h).
Universidade Estadual Paulista, UNESP, Brasil.
2006 – 2006
Curso de Campo em Ecologia Vegetal e Animal. (Credit Hours: 20h).
Universidade de Taubaté, UNITAU, Brasil.