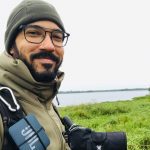 Diogo Lucatelli is a nature guide since 2011. But he discovered his passion for the natural world very early which led him to graduate as a Biologist at the Federal University of Bahia (UFBA), in his hometown, Salvador da Bahia, Brazil. But soon after graduating, he immersed himself in getting to know and understand the wild wetlands of the Pantanal. In 2012, joined the team at Caiman Ecological Refuge and stayed with them until 2016. The year of 2013 was very special, as i worked as biologist/guide/tracker at the Onçafari Jaguar Project.
Throughout these years, Diogo grew profound familiarity with the Pantanal. He also formed his family, and his two boys Guilherme and Arthur lived their first years ar Caiman. But in 2017, he left the Refuge to expand his horizons to all wild lands of Brazil.
Since then, he partnered up with Boute Expeditions and has been leading natural history and birding expeditions through Brazil, mostly to the Pantanal – his second home – and some areas of the brazilian Amazon.
Always pursuing to understand and live his country's wilderness, Diogo is also passionate about the art of guiding. So in 2017 he started also his guide's training business and in 2020, in a partnership with Onçafari NGO and Ecotraining – a south african guiding school – spent 2 months attending to a Nature Guide Course in the african savanna in South Africa, home to the most renowned guides community. From there, he brought a wider knowledge about his profession and a dream of one day creating a guiding school.
"I believe the role of the guide is to inspire, educate and connect people with the natural world. It is a very important and hard task, as I see it, but I take great pleasure in this job."